Indulge in the Video Performance of Amazing Details
Hyper-Realistic Video Quality with HDR
Featuring the leading HDR technology in a video enjoyment monitor, EL2870U offers enhanced brightness and contrast and adds incredible details and vividness to HDR video contents.
Opt-Clarity for Ultra-Fine Details
EL2870U's simple hotkey switches between 4 levels of HDR and B.I.+ modes, which constitute BenQ's exclusive Opt-Clarity Technology, allow users to select the most suitable clarity for displayed content based on the conditions in different viewing environments, ensuring users can fully enjoy the splendid image performance of HDR while maintaining the ability to see the most delicate details in dimly lit environments.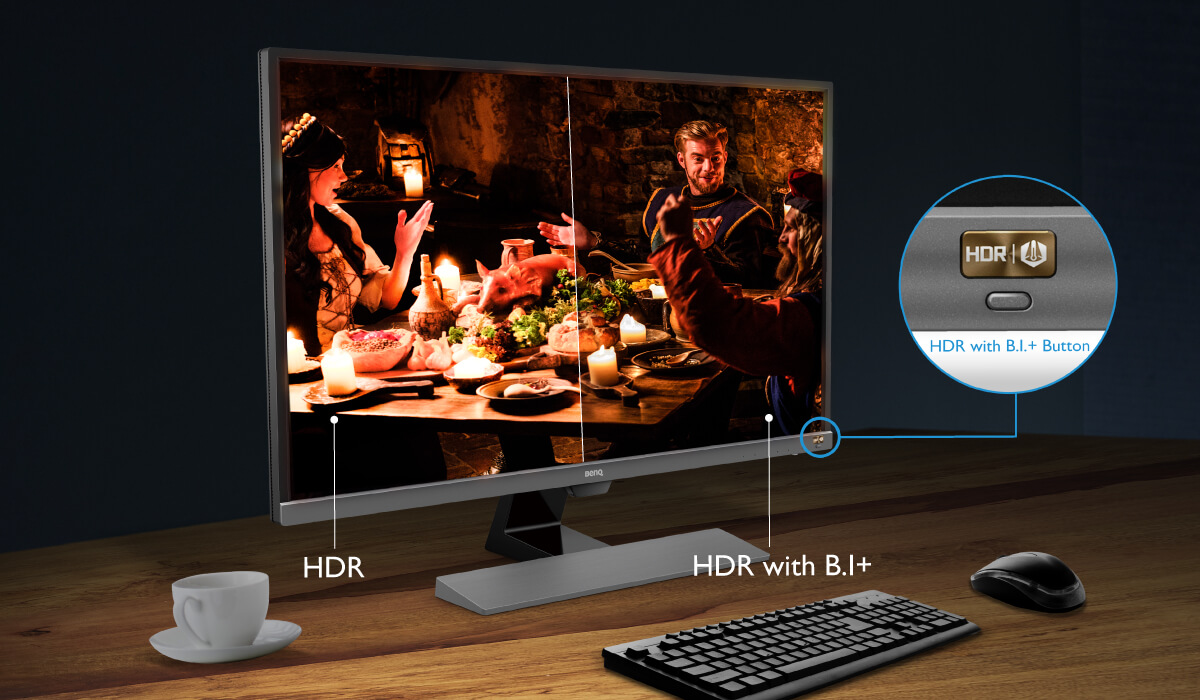 Be in Awe of Clarity and Magnificence of 4k UHD Image
Enjoy extremely vibrant, precise and realistic images as well as much higher frame rates with 4K resolution. You will be amazed by the crystal-clear images with fine details and take advantage of the most optimal viewing experience.
Take control of your streaming enjoyment with ease

Universal Multi-Device Connectivity and Integrated Speakers
Enjoy the expanded flexibility and superb HDR video quality from any source with one DP1.4 and dual HDMI 2.0 ports while being immersed in the powerful audio from the integrated speaker.
Specialized Modes for the Ultimate Video Entertainment
Smart Focus highlights the selected window or area, helping users concentrate on the main viewing content by reducing distractions in the background.
Super Resolution to Enhance Standard Image Quality
EL2870U simulates high resolution picture quality by increasing pixel density of low-resolution standard-definition content for astounding clarity.
Smoother and Intense Images for Full Gaming Enjoyment
AMD FreeSync™ technology eliminates image tearing, broken frames, and choppy gameplay for incredibly fluid gaming experiences. With an improved refresh rate to bring out an ultra-smooth gaming experience, EL2870U is gamer's dream monitor.
Fast 1ms GTG Response Time
Super-fast 1ms GTG response eliminates motion smear for smooth video and gaming. Fast-moving action and dramatic transitions are rendered flawlessly without lag or ghosting. Enjoy immersive gaming and video entertainment without delay.